On Feb. 12, 2018, Joaquin "El Chapo" Guzman, the former leader of the Sinaloa cartel, was found guilty on all federal counts, including engaging in a continuing criminal enterprise.
The trial, which lasted three months, attracted an unusual amount of attention and scrutiny, due to the elusive, dangerous nature of the defendant. Precautions were taken to minimize risk to jurors. They were partially sequestered, for one, meaning they were limited to a hotel and the courtroom for the length of the trial, rather than traveling to the court from home. Armed marshals attended their every move. El Chapo had even promised not to kill any of his jurors. But at the end of it all, it took the jury six days—roughly 34 hours—to return their decisive verdict.

Who is this man who inspired such terror in people? What was he accused of? And how did this trial, which was been repeatedly delayed and postponed, progress over the past three months? If the first you heard about El Chapo was from that Sean Penn interview, here's everything you need to know about the trial of El Chapo, suspected former head of the Sinaloa drug cartel.

Who Is El Chapo?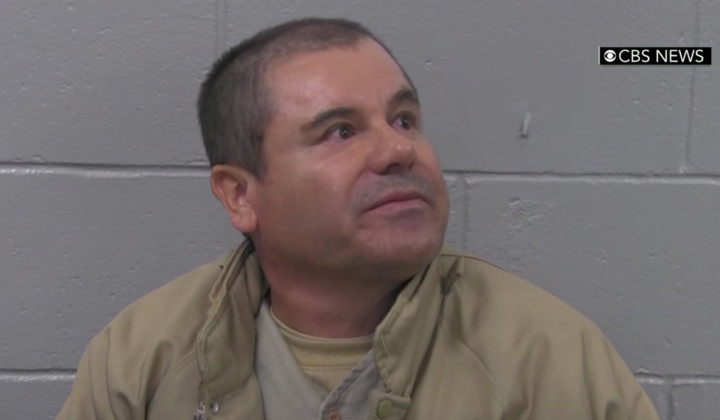 El Chapo's real name is Joaquín Archivaldo Guzmán Loera. He was born in the 1950s (experts dispute the date) in the village of La Tuna, Badiraguato, Sinaloa, Mexico. He grew up poor; his father was a cattle farmer (though some speculate he was actually an opium poppy farmer), and he was one of many siblings, several of whom would also get caught up in the drug trade.
He made his bones as a drug runner—organizing shipments from the Sierra Madre Mountains region to major urban areas in Mexico during the '70s. In the early '80s he began working for the Guadalajara cartel, then the most powerful cartel in Mexico.
His handlers were impressed with him, and they slowly imbued him with more responsibility. When the head of the Guadalajara cartel went down on criminal charges, his underlings decided to split the original territory amongst themselves. Guzmán became one of the heads of the Sinaloa Cartel, which he ruled for decades with an iron fist.
In the current, federal trial, El Chapo is accused of being the head of an organized criminal organization, for the purpose of distributing narcotics and orchestrating the deaths of rivals and enemies. He's also accused of laundering over $15 billion in drug money.
El Chapo reportedly participated in killings, such as a 2006 incident in which he allegedly shot two men and had their corpses burned and buried. There are also reported YouTube videos of rival cartel members being imprisoned and tortured, which the prosecution wants to admit as evidence.
How Did He Get Caught?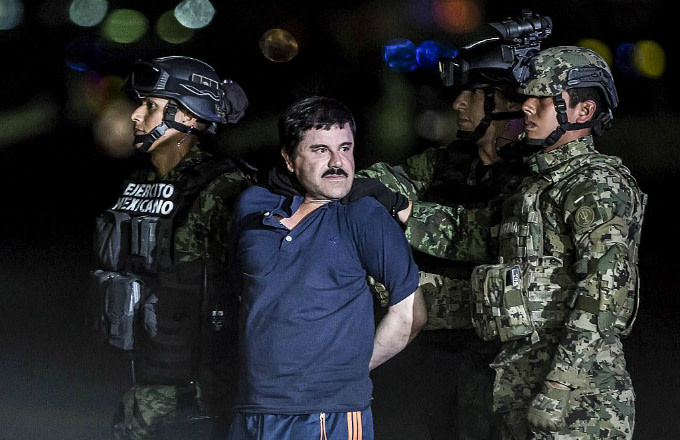 During the Sinaloa Cartel's war with the Tijuana Cartel in 1993, gunmen opened fire on a car they thought contained Chapo, but instead contained Cardinal Archbishop of Guadalajara Juan Jesús Posadas Ocampa. He died from 14 bullet wounds. This caused widespread outrage, from the Mexican Government to the larger Catholic Church. The block was hot, and El Chapo attempted to flee to Guatemala.
He was eventually arrested in Guatemala that year, and extradited back to Mexico, where he was sentenced to 20 years for, among other things, the murder of the Cardinal.
Serving Time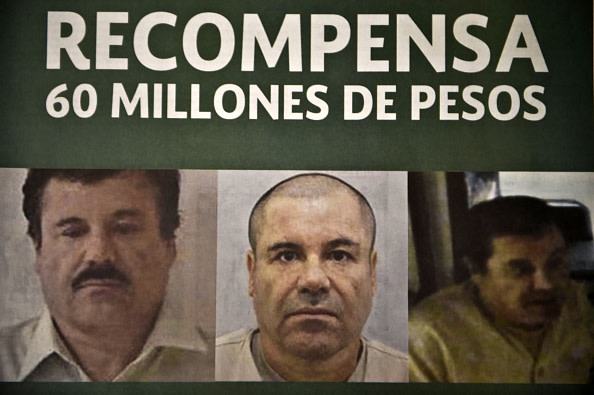 Unsurprisingly, El Chapo didn't serve prison time the way he was supposed to. He spread a lot of money around to ensure that he lived comfortably, and he still ran the cartel from behind bars, with the help of his brother, Arturo Guzmán Loera.
First Escape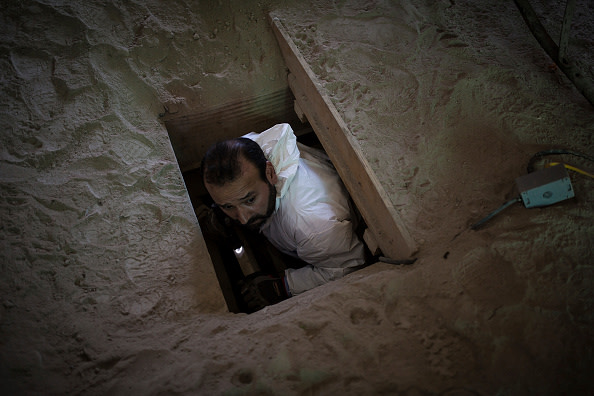 The accused drug lord escaped from prison in January 2001 via a laundry cart, facing extradition to the United States. It cost him $2.5 million to orchestrate his escape, which included bribery and cooperation with the guards. Scores of them are currently sitting in prison thanks to their role in his escape.
On The Run—Sort Of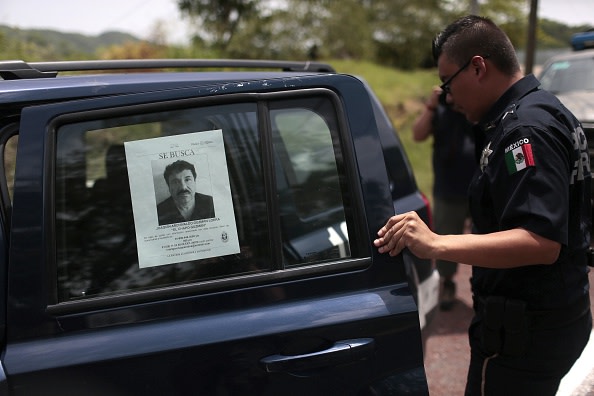 It took Mexican and U.S. authorities more than a decade to track El Chapo down. During that time, he got bold. He would eat out at his favorite gourmet restaurants. When he came in, armed guards would collect everyone's cell phones, and no one was be allowed to leave until he left. He would also pick up the tab of everyone's table to apologize for the inconvenience—and to buy their silence.
Recaptured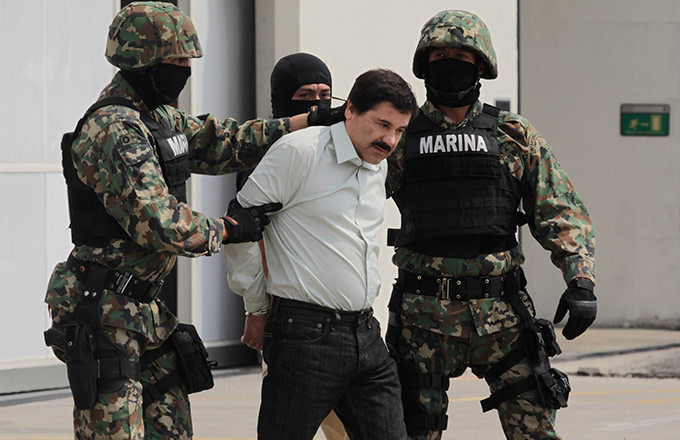 The break in the manhunt came in February 2014, when U.S. authorities succeeded in tracking the phone of Carlos Manuel Hoo Ramirez, one of El Chapo's bodyguards, to a hotel in Mazatlan. There, they found El Chapo, who, after initially grabbing a rifle, peacefully surrendered to authorities.
A Free Man Once More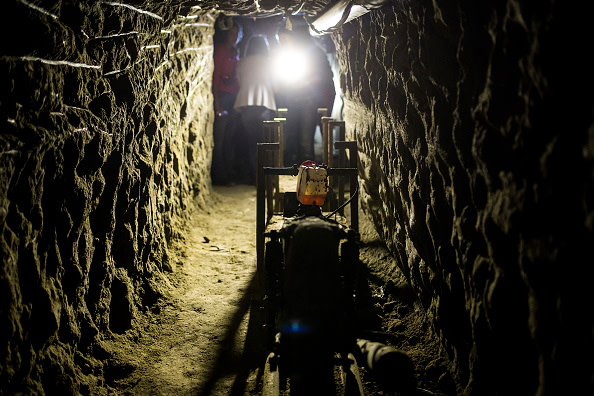 El Chapo escaped from prison again in July 2015. This time, he got creative. His men dug a mile-long tunnel that ended under his cell's shower. Late in the evening Chapo dropped down into the tunnel and rode a makeshift motorcycle down the length of the tunnel, to freedom.
This was Antiplano, a maximum security Mexican prison. The escape was a tremendous embarrassment to the government, and the investigation afterwards proved even moreso. Unedited footage suggested that the prison guards had ignored the loud banging of El Chapo being broken out of his cell; he had turned the television volume up in an attempt to drown it out, but it was still audible on tape.
The guards also lingered after discovering El Chapo had escaped, and did not immediately climb down the hole after him. This raised questions about collusion, especially since the hole was in the only blind spot of the cell not under video surveillance. All told, 34 people were arrested in connection with the escape.
Third (!) Arrest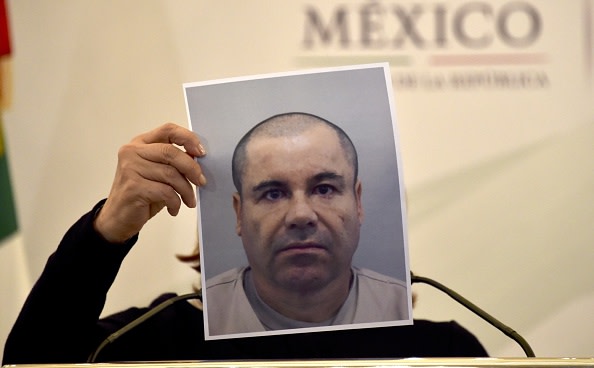 El Chapo was once again captured in January 2016, this time in northern Sinaloa. He almost escaped again, via tunnel, and afterwards, via car. But law enforcement intercepted him and refused to take his bribes.
There was speculation at the time that Sean Penn's interview with El Chapo led to the arrest. Although the interview confirmed the area in which El Chapo was hiding, the intelligence did not directly lead to his capture.
How Did El Chapo Remain Free For So Long?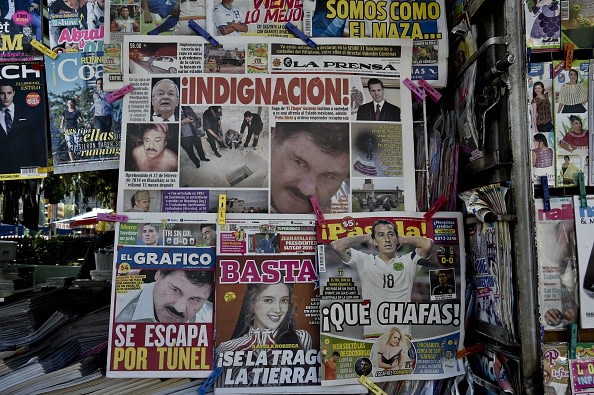 El Chapo knew that he needed the common people on his side, so, he did nice thingsfor them. He paid for hospital care. He built roads. He built the sort of community infrastructure that a dysfunctional Mexican government did not. Sometimes, he went to villages and just started handing out money. One Mexican ambassador compared him Santa Claus.
What Has El Chapo Been Charged With?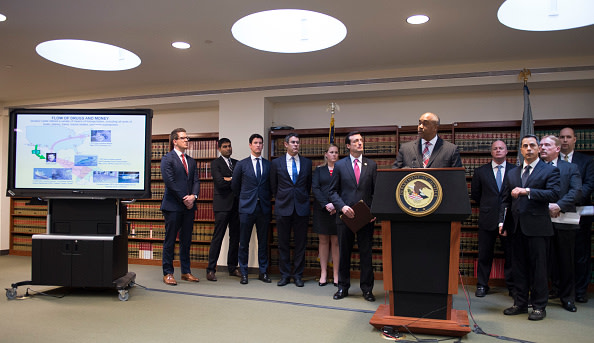 El Chapo was extradited to the United States, where he pled not guilty to 17 counts, including the operation of a criminal enterprise, money laundering, and murder conspiracy. Due to the conditions of the extradition, he will not face the death penalty, even if convicted on all 17 counts. But the mastermind could spend the rest of his life in a Colorado prison known as "Supermax," without the possibility of parole.
Jury Selection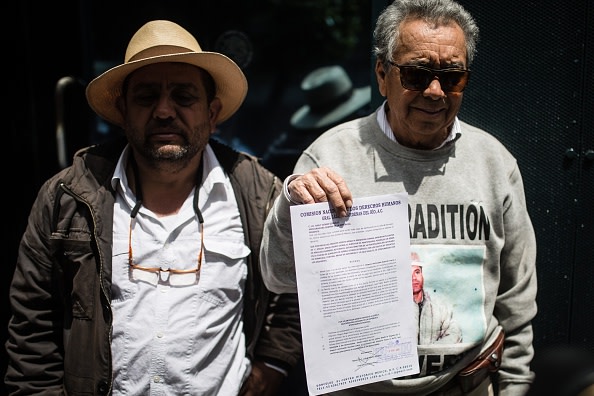 The jury selection process was spectacle in and of itself; one juror was dismissed after it was discovered that he wanted an autograph from El Chapo and considered himself a "fan." Another juror was dismissed because of his career as a Michael Jackson impersonator, which made him too identifiable.
And right as the process wrapped in early November, one of the jurors had last-minute regrets. She told the judge, Brian M. Cogan, that her co-workers had deduced she was in the jury pool, and thus, her identity was at risk. Cogan, however, did not allow the woman to remove herself from the jury.
Mrs. Chapo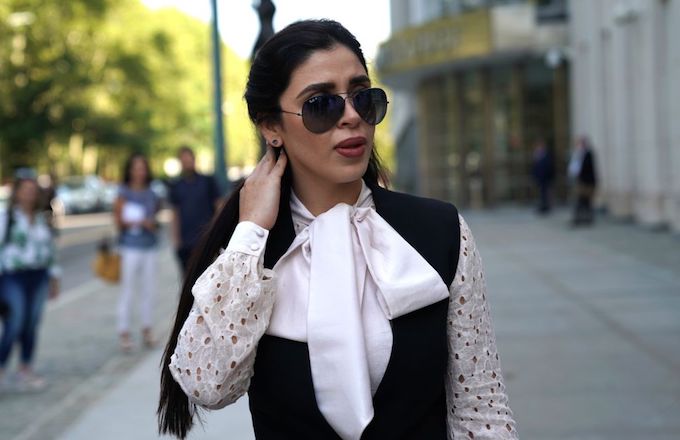 Emma Coronel Aispuro, El Chapo's third wife, has been a constant fixture at the ongoing trial. She feels the media's treatment of her husband is sensationalized, and claims she never saw him do anything illegal. Barring rare instances, she's been by his side every day of the trial, and recently brought the couple's seven-year-old twin daughters with her, which reduced the accused drug lord to tears.
"I think it's what any wife would do in my place, be with her husband in difficult times,' said Aispuro in an interview with Telemundo. "In one way or another so that he feels, and sees me present, and feels my support."
Aispuro's Instagram (yes, really) is here.
The Judge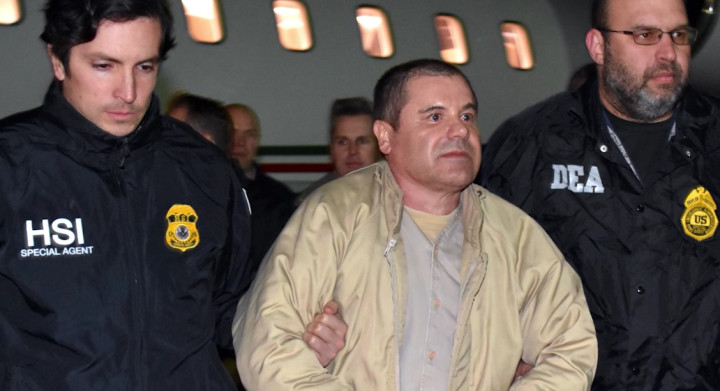 Judge Cogan seems to be taking an even-handed approach. He's served as a U.S. district judge for 12 years, after being appointed by George W. Bush and unanimously confirmed by the U.S. Senate (95-0) in 2006.
Specifically, Cogan has been critical, both during the pre-trial and the actual trial, of including too much gory testimony that might inflame the jurors' passions above and beyond the scope of the evidence. It's also worth noting that the trial is primarily about drugs and money, which Cogan was quick to point out in the pre-trial:
"This is a drug conspiracy case that involves murders," Cogan said. "I'm not going to let you try a murder conspiracy case that happens to involve drugs."
The Witnesses
The prosecution has been calling its witnesses, many of whom are El Chapo's former associates or business partners.
Pedro Flores, a Chicago drug dealer turned informant, says he recorded El Chapo making a drug deal. The tape was played in open court, though the defense tried to cast doubt on the tape's legitimacy.
Another star witness, Jesús Zambada García, an accountant and former leader of the Sinaloa Cartel (and brother of the cartel's current leader) claims he gave millions of dollars to a Mexican president to secure the transportation of drugs through Mexico City. The jury was not permitted to hear this claim, although they did hear other parts of Zambada's testimony, which included mentions of bribing other officials. Mexican President Enrique Peña Nieto, for his part, denies taking any bribes.
Graphic Testimony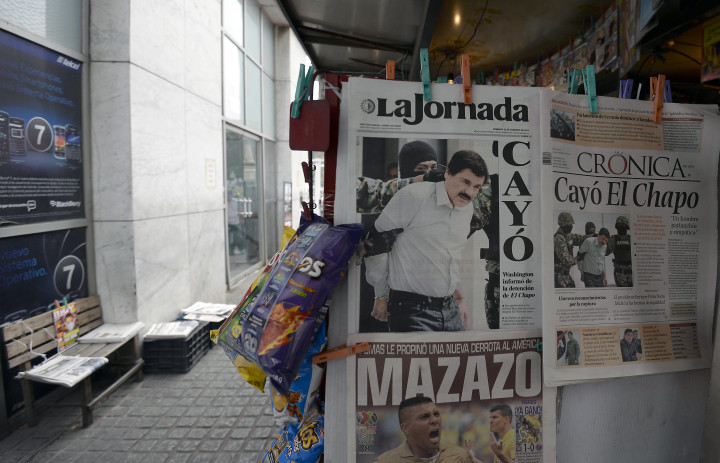 Even with the judge's stringency, the jury heard several vivid accounts about El Chapo's brutality. As reported in the New York Post, Sinaloa associate Damaso Lopez Nunez testified about a fellow cartel member who pretended to be out of town, but instead was seen at a public park. El Chapo had both the man and his secretary killed, the latter for simply being with him at the wrong time.
Another harrowing testimony came from Isaias Valdez Rios, a former security guard, personal aide, and pilot to El Chapo. Rios claimed he saw El Chapo beat and shoot two men who defected from the Sinaloa cartel for three hours, before shooting them with a rifle. El Chapo then ordered their bodies burned on a large bonfire until the bones had disintegrated.
Rios also described a third man from a rival cartel who was beaten, burned with an iron and lighter, and imprisoned in a wooden structure before being interrogated and shot by El Chapo. He was then dumped into a hole and buried alive.
Sex Crimes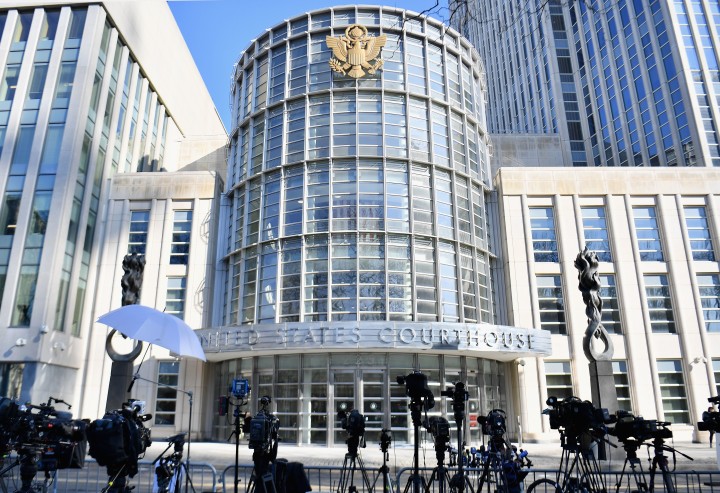 Two days before the jury was set to begin its deliberations, the prosecution unsealed documents that accused El Chapo of underage rape and regular instances of sexual violence, which he reportedly inflicted on mistresses and girls as young as 13 years old.
The claims came from El Chapo's former personal secretary, Alex Cifuentes, who claimed that a woman called "Comadre Maria" would provide photos of girls that El Chapo could choose from. Cifuentes claimed that El Chapo referred to the youngest girls as his "vitamins," and that raping them gave him "life."
El Chapo's lawyer denied the allegations; this was considered too inflammatory for the jury to hear in a trial about drug conspiracy. But it did no favors to the perception of El Chapo in the eyes of the public.
The Outlook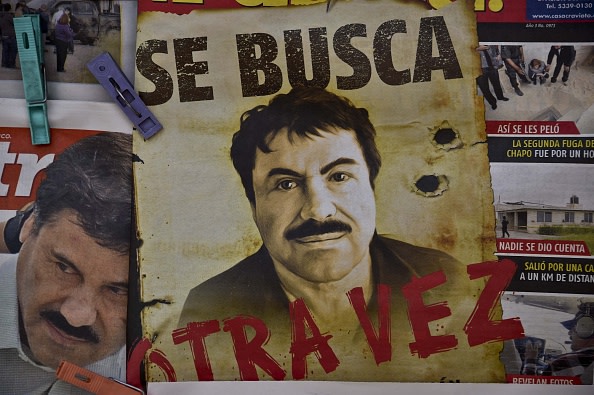 It doesn't look good for El Chapo; his convictions come with a mandatory life sentence, without the possibility of parole. CBS reports that El Chapo will likely be sent to the United States Penitentiary Florence, a maximum security prison in Colorado. Until then, he is being held in solitary confinement in a New York City federal prison.
The Outcome
On February 12, 2019, a verdict was reached in El Chapo's case: he was convicted on all counts and, according to The Associated Press, this conviction "could put him behind bars for the rest of his life in a high-security prison." This is after the defense rested its case, which they presented for approximately a half hour, in which defense attorneys spent most of their time portraying El Chapo as the fall guy for government witnesses who they depicted as being more sinister than El Chapo.
It took jurors six days to convict on the reported 53 decisions presented by prosecutors during the trial. The trial itself took a total of three months. El Chapo's sentencing is "tentatively scheduled" for June 25.
The Sentence
Video via Washington Post
On July 17, Joaquin "El Chapo" Guzman was sentenced to life in prison, plus 30 years. The 62-year-old kingpin was allowed to speak before his sentencing and spent those 15 minutes thanking his family, legal team, and supporters, but also spoke on the judicial system which he believes failed him.
"Since the government will send me to a jail where my name will not ever be heard again, I take this opportunity to say there was no justice," the New York Daily Newsreports Guzman said through a translator. "You denied me a fair trial while the whole world was watching … What happened here is very clear, that the United States is as corrupt as any country." Guzman felt that the case was rigged from the start, and openly asked why they put him on trial at all.
With this sentence, Guzman is likely going to die in prison on U.S. soil. It's being speculated that he'll serve his sentence in a Supermax facility in Florence, Colorado.

Follow us on Facebook – @talkmoreblog; Twitter –@clementbenjam14 for updates