It's a little after 8 a.m. on the Fourth of July and the Los Angeles home of Manny Pacquiao is buzzing with activity that has nothing to do with the holiday.
Many of the nearly two dozen or so people up early are helping prepare the huge breakfast spread to be served the second the Philippines Senator and boxing legend returns from his morning run. Less than 15 minutes later, Pacquiao is back in the spacious house that's adorned with numerous paintings and photographs of his professional triumphs. He takes a seat at the head of his huge dining room table as the tinfoil is ripped off of hot plates full of grilled meats and enough traditional Pilipino dishes to feed a small army. The first thing Pacquiao reaches for is the white rice—a staple of every meal—and then bathes it in a beef broth.

It's all part of a carefully choreographed routine that has helped Pacquiao, a future Hall of Famer and boxing's only eight-division world champion, continue to compete at a level rarely seen from a 40-year-old in an unforgiving sport. But the older he gets the more concessions must be made—like taking days off. That would've been out of the question five years ago for a fighter notorious for constantly being active. But his team has learned how to read the boss and institute its own form of the NBA's de rigueur strategy for superstars: load management.
"[The other day], he looked like shit. So dude, that's it. Take it down," said Justin Fortune, Pacquiao's strength and conditioning coach. "You gotta rest up or else we're going to repeat what you did two and half years ago and that was a disaster."
What happened two and half years ago, of course, was a shocking loss to relative unknown Australian Jeff Horn that boxing observers thought could be the beginning of the end for the Pac-Man. Two fights and two convincing wins over Lucas Matthysse and Adrian Broner later, Pacquiao (61-7-2, 39 KOs) is facing his stiffest test in years when he steps into the ring with Keith "One Time" Thurman (29-0, 22 KOs) for the WBA world welterweight title. Continuing to prove he's one of the best fighters in boxing's deepest division isn't the only motivation heading into Saturday's showdown. Thurman took the trash talking to a level unappreciated by ultra pious Pacquiao when Thurman said he was going to "crucify" Pacquiao in the ring.
"ALL I CAN SAY IS I'M ACTIVE IN BOXING. I'M ACTIVE AND IT'S UP TO HIM IF HE WANTS TO COME BACK. HE SAID HE'S RETIRED."
"This guy has turned out to be rude, insulting, and worst thing fucking ignorant," Fortune said. "We understand what you're trying to do. You're trying to upset Manny and throw him off his game. But you just made him become more and more determined which is unfortunate for Keith. [Pacquiao's] mentioned to me on numerous occasions that he wants to do some damage and take care of business. And we haven't heard that from Manny in years."
A little more than two weeks before Saturday's showdown at the MGM Grand Garden Arena in Las Vegas (FOX PPV, 9 p.m. ET), we talked to Pacquiao over breakfast about one of the biggest fights of 2019, how he's dealing with load management, why Thurman's comment crossed the line, his love of basketball and the NBA, and the possibility of fighting Floyd Mayweather again.
(This interview has been edited and condensed for clarity.)
To kick things off, you're 40 now and have been doing this a long time. But does the buildup to this fight have the same feeling as your previous PPVs?
I feel excited and motivated for training. I think it's the same. It's got the same [feeling].
What is the most fun aspect of the buildup?
It's fun doing my job and doing my training. I'm happy doing it with my team as long as I'm still enjoying it and my body's response is ok.
Everyone around your camp continues to talk about how you've maintained your body like you're still in your prime. How have you maintained your speed and are still able to box at a peak level at age 40?
I'm maintaining my speed and footwork. That's the focus of every training that I have.
What's been unique about this training camp? Or has it been business as usual?
Usual, but there's a little bit different adjustments in terms of body recovery.
Well how tough is that because everyone says you love to train and be active every day. Now at 40 you're being told by your team to take days off.
I love to push myself everyday but sometimes my body doesn't respond. I need time to rest and recover. Those are the changes compared to when you're young. There's a little bit of adjustment in terms of preparation and recovery of your body. Like what I did [the week before the interview] I spared and pushed myself and then [the day before the interview] [co-trainer] Freddie [Roach] and Justin and [head trainer] Buboy [Fernandez] didn't let me train. They let me rest for one day. They worry about me burning myself out. That's what we did the last fight and previous fight before the last fight. We push and push as long as we can, but the thing is if I'm tired and my body did not recover from overnight's rest we don't push.
The sparring sessions have gotten a lot of interest and notoriety leading up to the fight with talk that you were lighting up your opponents and your speed was amazing. What have they been like?
The sparring session were going good. The speed was faster than my opponent. It'll help a lot for me strategy-wise. We can easily create a new strategy with my quickness. But good sparring sessions.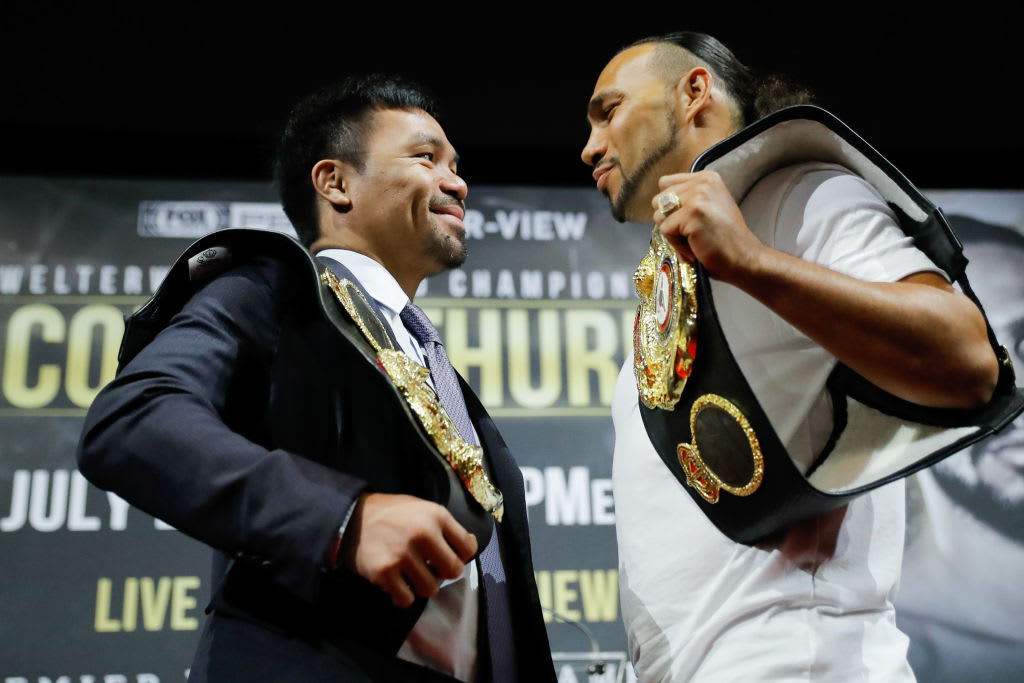 What makes this matchup so exciting?
We can create a lot of boxing in the ring considering my opponent's style is so aggressive. Also, he's talked too much. So we'll see.
About the trash talking, you felt he really crossed the line with what he said he was going to "crucify you" in the ring.
I tell him what you're saying is not helping you, it's helping me. It gives me more motivation the more he's saying. It will help me.
Do you remember any opponent's trash talk motivating you in previous fights like Thurman's has?
I'm thinking maybe he said it maybe just to promote the fight, but I'm taking seriously what he said.
Do you think at all about your legacy leading up to this fight?
This fight is one of the most important fights of my career. To prove at the age 40 that I can still fight.
At age 40, you have bucked the trend of boxers because normally they deteriorated long ago. So do you and your camp have a one year plan, two year plan mapped out or are you legitimately just taking it one fight at a time?
Our focus is fight-by-fight.
We always have to bring up Floyd Mayweather because the two of you are always connected. Do you think another fight with Floyd is a possibility?
All I can say is I'm active in boxing. I'm active and it's up to him if he wants to come back. He said he's retired. I'm active so I think I will always fight anybody.
I know you're a huge basketball fan and you still play basketball. And I've been told you like to compare your game to Jason Kidd when you're playing. Tell me why.
I'm a very good captain on the court.
Who do you really admire in today's NBA?
My favorite?
Sure.
Zion Williamson [laughs and smiles]. He can run, he can [dunk].
What do you love most about basketball?
Basketball is also strategy, gameplan. Basketball is about teamwork.
When you play do you play full five-on-five full court or three-on-three?
Five-on-five.
So if you could play a dream five-on-five game, what four teammates would you pick?
Kevin Durant. Stephen Curry. Russell Westbrook. And then James Harden [laughs].
Who is your favorite player of all time?
[Michael] Jordan.
What do you admire about Jordan?
He was a general and captain on the court.
What principles do you take from his game?
Leadership. It's very important, leadership. Jordan, if his team is losing, his attitude was "just give me the ball" and he would take care of it.

Follow us on Facebook – @talkmoreblog; Twitter –@clementbenjam14 for updates