David Koch, the industrialist and libertarian who used his fortune to transform American politics while also donating more than $1 billion to philanthropic causes, has died. He was 79.
Koch died after years of fighting various illnesses, according to a statement from Koch Industries on Friday. He'd been diagnosed with prostate cancer 27 years ago and initially doctors said he had just a few years to live.
"It is with a heavy heart that I announce the passing of my brother David," Charles Koch said in a statement. "Anyone who worked with David surely experienced his giant personality and passion for life."
Koch, whose net worth of about $59 billion in the Bloomberg Billionaires Index tied him with his brother as the world's seventh-richest person, derived most of his wealth from a 42% stake in Wichita, Kansas-based Koch Industries, which has annual revenue of about $110 billion. It is one of the nation's largest closely held companies, and its spectacular growth included the 2005 acquisition of Georgia Pacific for $21 billion.
A resident of New York's Upper East Side and the city's richest person, Koch once joked that Koch Industries was "the biggest company you've never heard of." The conglomerate has interests ranging from oil and ranching to farming and the manufacturing of electrical components.
But he and Charles Koch, 83, became better known for pushing their views than their business acumen, pumping millions into conservative causes and candidates. The operation they built includes more than 700 donors who give $100,000 or more a year and a group called Americans for Prosperity that has chapters in 35 states. It's rivaled only by the Republican Party in its influence on the conservative agenda in the U.S.
The Koch brothers and other wealthy donors were able to expand their influence on elections following the Supreme Court's 2010 Citizens United decision that paved the way for unbridled spending, both directly and indirectly, by outside groups.
"David Koch's imprint on the American political scene will endure long into the future," said Daniel Schulman, who wrote "Sons of Wichita: How the Koch Brothers Became America's Most Powerful and Private Dynasty," published in 2014. "The Kochs helped to give rise to the age of the mega-donor, an era of unprecedented political spending in which wealthy individuals, as well as corporations, can influence politics as never before. His political legacy is huge."
Pence, Pompeo, Perry
Koch money incubated a generation of political figures, including Vice President Mike Pence, Secretary of State Mike Pompeo, former Environmental Protection Agency Administrator Scott Pruitt, Energy Secretary Rick Perry and Wisconsin Governor Scott Walker.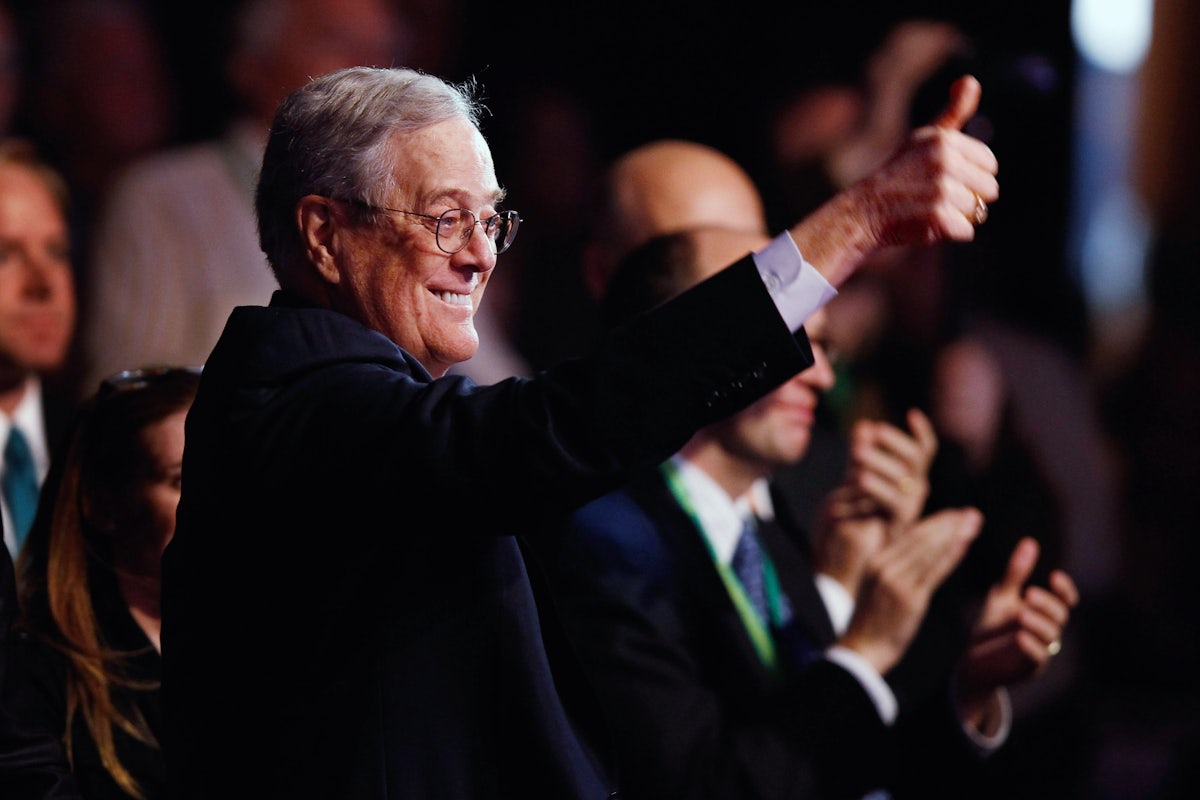 Yet all those men but Walker worked for President Donald Trump, who has upended the free-market views the Kochs have tried to foster within the Republican Party. That has prompted clashes with Trump, especially on trade and immigration policy.
The brothers didn't support Trump in his 2016 campaign, although they praised his efforts to cut taxes and regulations. After Charles Koch criticized Trump's approach to trade and his leadership style during a donor retreat in 2018, the president tweeted that the brothers "have become a total joke in real Republican circles."
Their political network by then was backing away from reflexive support for Republicans, such as then-Representative Kevin Cramer of North Dakota, who arguably strayed too far from the brothers' vision of free-market orthodoxy. Cramer nevertheless beat an incumbent Democrat, Heidi Heitkamp, for a Senate seat.
Days after the midterms that year, when the Democrats retook the House despite millions in Koch spending for Republicans, the network called for a more bipartisan focus on what unites Americans with work on criminal-justice reform, immigration and promotion of free trade.
Koch was the vice presidential candidate for the Libertarian Party in 1980. But as his health failed, he became less prominent in the Koch political operation. Charles Koch has served as the philosophical and hands-on leader, while David was chairman of the foundation that oversees AFP, their flagship political organ.
Share or comment on this article
Sign up for Talkmoreblog's Newsletter. For the latest news, follow us on Facebook and Twitter.