Singapore is a city-state in Southeast Asia. Founded as a British trading colony in 1819, since independence it has become one of the world's most prosperous, tax-friendly countries and boasts the world's busiest port.
Combining the skyscrapers and subways of a modern, affluent city with a medley of Chinese, Malay and Indian influences along with a tropical climate, tasty food from hawker centres, copious shopping malls, and vibrant night-life scene, this Garden City makes a great stopover or springboard into the region.
Singapore is one of the most popular travel destinations in the world for a lot of reasons, one of which is the less stringent entry requirements.
Source: Wikitravel
1. Gardens By The Bay
Singapore's 21st-century botanic garden is a S$1 billion, 101-hectare fantasy land of space-age biodomes, high-tech Supertrees and whimsical sculptures. The Flower Dome replicates the dry Mediterranean climates found across the world, while the even more astounding Cloud Forest is a tropical montane affair, complete with waterfall. Connecting two of the Supertrees is the OCBC Skyway, with knockout views of the gardens, city and South China Sea. At 7.45pm and 8.45pm, the Supertrees twinkle and glow for the spectacular Garden Rhapsody show.
2. Singapore Zoo
The line between zoo and botanic oasis blurs at this pulse-slowing sweep of spacious, naturalistic enclosures and interactive attractions. Get up close to orang-utans, dodge Malaysian flying foxes, even snoop around a replica African village. Then there's that setting: 26 soothing hectares on a lush peninsula jutting out into the waters of the Upper Seletar Reservoir.
3. National Orchid Garden
The National Orchid Garden has over 60,000 plants and a cool house showcasing pitcher plants and orchids from cooler climates. Don't miss the Vanda Miss Joaquim, Singapore's national flower, a hybrid orchid which Agnes Joaquim cross-bred in her garden in 1893.
4. Singapore Botanic Gardens
Singapore's 74-hectare botanic wonderland is a Unesco World Heritage Site and one of the city's most arresting attractions. Established in 1860, it's a tropical Valhalla peppered with glassy lakes, rolling lawns and themed gardens. The site is home to the National Orchid Garden, as well as a rare patch of dense primeval rainforest, the latter home to over 300 species of vegetation, over half of which are now (sadly) considered rare in Singapore.
5. Marina Bay Sands Skypark
The best spot to witness the beauty of Singapore from above. Marina Bay Sands Skypark is one of the most popular places in Singapore that must be visited.Enjoy the 360-degree view of Singapore skyline and the city below. Make sure to capture the unforgettable memories from 57 levels off the ground.
6. Singapore Flyer
Las Vegas' High Roller may have since stolen its 'World's Biggest Observation Wheel' title, but Singapore's 165m-tall Ferris wheel continues to serve up a gobsmacking panorama. On a clear day, the 30-minute ride will have you peering out over the Colonial District, CBD and Marina Bay, the high-rise housing sprawl to the east and out to the ship-clogged South China Sea. The wheel's construction is documented in an on-site multimedia display, Journey of Dreams.
7. Singapore Cable Car
Feast on a rich 4-course dinner aboard the famous Singapore Cable Car. Dine under the stars in your own private dining room with views to remember. Watch the sunset with that special someone or celebrate an important event with this fantastic dining experience. Catch stunning glimpses of the world below: the iconic Mount Faber Park, Universal Studios, Resorts World Sentosa and more.
Dine above the skyline aboard the Singapore Cable Car on Mount Faber. Indulge in a 4-course luxurious meal spread over three rounds on the cable car. Perfect for a romantic date with that special someone, the cable car ride will reward you with stunning views of the city and the night sky.
8. Jurong Bird Park
Home to some 400 species of feathered friends – including spectacular macaws – Jurong is a great place for young kids. Highlights include the wonderful Lory Loft forest enclosure, where you can feed colourful lories and lorikeets, and the interactive High Flyers (11 am and 3 pm) and Kings of the Skies (10 am and 4 pm). We must note, however, that some birds are made to perform for humans, which is discouraged by animal-welfare groups. The park is set to relocate to Mandai by 2020.
9. National Museum Of Singapore
Imaginative and immersive, Singapore's National Museum is good enough to warrant two visits. At once cutting edge and classical, the space ditches staid exhibits for lively multimedia galleries that bring Singapore's jam-packed biography to vivid life. It's a colourful, intimate journey, spanning ancient Malay royalty, wartime occupation, nation-building, food and fashion. Look out for interactive artwork GoHead/GoStan: Panorama Singapura, which offers an audiovisual trip through the city-state's many periods. Free guided tours are offered daily; check the website for times.
10. Clarke Quay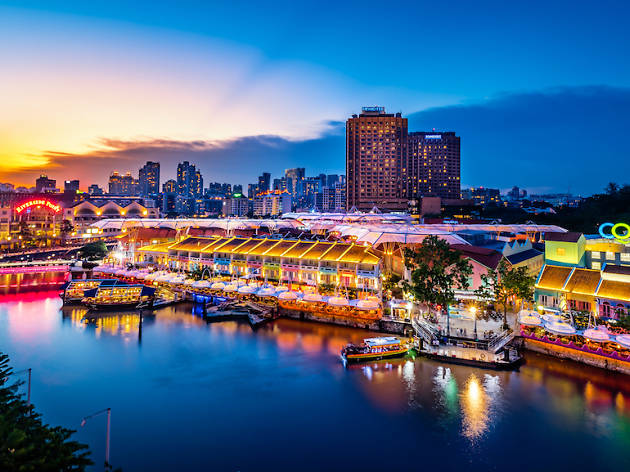 Named after Singapore's second colonial governor, Sir Andrew Clarke, this is the busiest and most popular of Singapore's three quays. How much time you spend in its plethora of bars, restaurants and clubs depends upon your taste in aesthetics. This is Singapore at its most hyper-touristy, a kitsch, pastel-coloured sprawl of mostly run-of-the-mill eateries and lad-and-ladette drinking holes.
Share or comment on this article
Sign up for Talkmoreblog's Newsletter. For the latest news, follow us on Facebook and Twitter.