Robert Mugabe, whose brutal rule of Zimbabwe turned his country into an international outcast and left it mired in corruption, violence and economic crisis, has died at the age of 95.
His death in Singapore, nearly two years after he was toppled from power, was confirmed this morning by current President Emmerson Mnangagwa. Reports in Zimbabwe say he died with his wife Grace at his side.
Mugabe had been in poor health, admitted to hospital in early April, apparently unable to walk and pictured looking extremely frail in photos alongside his son which may be the last ever taken of him.
Just a few weeks ago he reportedly asked to be buried next to his mother Bona on the family farm near Harare. He had refused a burial at the Heroes Acre, a North Korean-built monument where graves are waiting for him and his wife.
Mugabe was hailed by several African leaders today, many of whom stood by him despite the brutality of his regime. Mnangagwa hailed Mugabe as an 'icon of liberation and said his 'contribution to the history of our nation and continent will never be forgotten'.
But he will be little mourned by many of his countrymen who are now free to say so without fear of repression.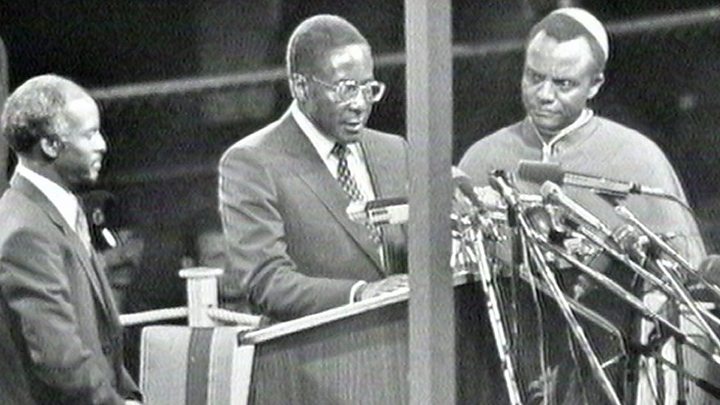 He came to power in 1980 as the founding leader of Zimbabwe, initially hailed as a liberator after the country became fully independent from British rule.
But his own reign was marked by murder, bloodshed, torture, persecution of political opponents, intimidation and vote-rigging on a grand scale and there was jubilation in the streets of Zimbabwe when he was toppled in 2017.
And under Mugabe's leadership, which made him a pariah in the West, the economy of a mineral-rich country descended into chaos with thousands of people reduced to grinding poverty, many of them suffering from near-starvation and worse. 
Share or comment on this article
Sign up for Talkmoreblog's Newsletter. For the latest news, follow us on Facebook and Twitter.